GenCen + #GiveGreenDay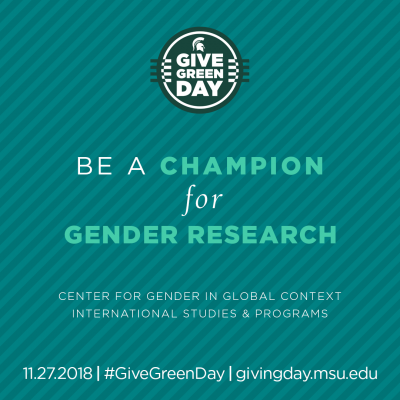 Our goal is to raise at least $10,000 for the Community Research Scholarship Fund on Give Green Day. Every dollar counts and will help us provide students with scholarships to support their work during the semester of their research internship. GenCen is a resource on campus for the study of gender, sexuality, and feminist theory in a global perspective. As such, we provide our students with the opportunity to enroll in experiential learning credit related to these topics as part of the Women's and Gender Studies major. In order to meet the needs of our students and the community, we will be providing financial support for students to make research collaborations with non-profit organizations more accessible. We are launching the Community Research Scholarship Fund, which will provide scholarship support to these students, as part of Give Green Day 2018.
Check out the GenCen project page to learn more about the Scholarship Fund, to meet our Project Champion, and to help #FundTheFuture. 
---
Featured Potential Project: K-12 Sexual Assault Education
Community organizations in the Lansing area frequently need evaluation data to demonstrate the types of effects their programs are having on the community. As a part of a community research internship, an MSU student could work with a local organization to assess the effectiveness of one particular program. For instance, using different methods of data collection, the student could assess how effective an organization's K-12 sexual assault education program is in providing K-12 students with accurate information about consent, and the effects of the program on changing attitudes about sexual assault. The results of the assessment could be used to improve future programming, and to help the community organization maintain funding for successful programs.
---
Featured Potential Project: Situational Violence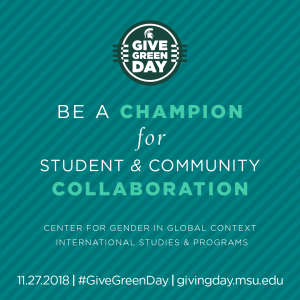 A student can work with the Prevention, Outreach and Education (POE) Department, a newly formed department at MSU dedicated to preventing sexual and gendered violence on campus. The student selected for the project would work with Fraternity and Sorority students with the "Greeks Take the Lead" initiative and gather data on environmental safety and perceptions of situational violence. Results of this data will be utilized to inform and improve prevention practices with Fraternity and Sorority communities.