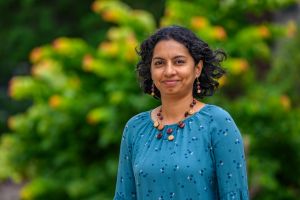 Rajalakshmi Nadadur
Assistant Director
(she/her/hers)
Bio:
Rajalakshmi Nadadur serves as GenCen's Assistant Director. In this role, she manages the research team, maintains and builds the existing network comprising of interdisciplinary scholars, various MSU departments and units, external partners, and provides program management support for gender transformative research.
She holds a PhD in Gender and Religion from the University of Stirling, U.K. and her research interest is in gender and development. As a gender expert, her current work focuses mainly on gender mainstreaming, intersectionality and social inclusion in the fields of education, livelihood, migration and climate-resilience with field work experience in South Asia, Southeast Asia, Kenya and Uganda. She has published on these topics and has served on USAID and DoS projects. Before joining GenCen, she was a Project Assistant Professor in the College of Arts and Sciences at the University of Tokyo where she taught research and writing, and an introductory course in Anthropology of Religion in the Japan in East Asia program. Since 2007, she has taught in various capacities at universities in the U.S., U.K., and Thailand. Between 2015 – 2019, she was also an affiliated researcher at the Centre for the Study of Religion and Culture in Asia, University of Groningen, the Netherlands. Outside academia, she has worked extensively in livelihood projects with urban refugee communities in Thailand, conducting participatory research, culture mapping, and providing tutoring and interpretation services to organizations including UN-ACT, and in media and public policy research in India and U.K.
What is your favorite thing to talk about?
Gender theories and the news.
If you were to have a career other than your current/planned one, what would it be?
A librarian or a museum curator. They are some of the coolest people on the planet.
Do you have pets?
Yes! Our grey tabby Tora who talks all the time, and our orange tabby Yuki who loves to lay in the sun.