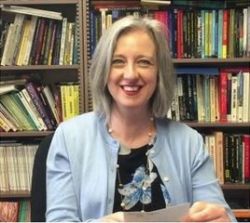 Stephanie Nawyn
Co-Director for Academic Programs, Outreach, and Engagement
(she/her/hers)

Bio:
I oversee the Women's and Gender Studies undergraduate curriculum and the WGS graduate specialization, collaborate with amazing staff and faculty doing gender- and sexuality-related programming on and off campus, and ask the interns how to work my phone.  I did my doctoral work at the University of Southern California, and starting working at MSU in 2006.  When I'm not at the GenCen, I am an associate professor in Sociology doing work on gender and migration.
Do you have any pets? Tell us about them!
I have a cat, Suleiman the Magnificent, named after the great Ottoman Sultan, and a beagle mix dog, Kirby, named after the Nintendo video game.
What is your favorite things to talk about:
My research, feminist epistemology, my kids, and whatever I'm watching on Netflix.
If you had any career other than the one you have, what would it be?
Something involving food preparation, even though the hours are terrible.