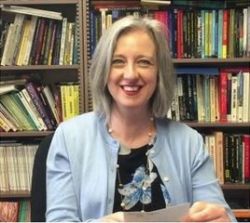 Stephanie Nawyn
Co-Director for Academic Programs, Outreach, and Engagement
(she/her/hers)

Bio:
Stephanie Nawyn is the Co-Director for Academic Programs, Outreach, and Engagement at GenCen. In this role, she is responsible for developing and managing related academic programs, including the major, minor, and grad specialization in Women's & Gender Studies, and the LGBTQ & Sexuality Studies minor. In addition, Nawyn leads the Center's outreach and engagement across campus and with community and women's organizations.
"Dr. Nawyn has established herself as an engaged scholar, a community leader, and an extraordinary role model for students," said Anne Ferguson, senior associate dean for International Studies and Programs and former co-director for the Center for Gender in Global Context. "GenCen not only benefits from her depth of experience and innovative thinking, but also her passion for the work."
Nawyn joined Michigan State University in 2006 and is associate professor of sociology. She is a core faculty member for GenCen and is also affiliate faculty for the Center for Forced Migration Studies at Northwestern University. Nawyn's research and teaching areas of expertise are in gender and migration, with a focus on forced migration and the ways that structural inequalities inhibit incorporation. She holds a PhD in sociology from the University of Southern California.
Do you have any pets? Tell us about them!
I have a cat, Suleiman the Magnificent, named after the great Ottoman Sultan, and a beagle mix dog, Kirby, named after the Nintendo video game.
What is your favorite things to talk about:
My research, feminist epistemology, my kids, and whatever I'm watching on Netflix.
If you had any career other than the one you have, what would it be?
Something involving food preparation, even though the hours are terrible.