Center for Gender in
Global Context
206 International Center
427 N. Shaw Lane
East Lansing, MI 48824
Phone: 517-353-5040
Fax: 517-432-4845
Email: gencen(at)msu.edu
Office Hours:
Monday-Friday
8:00am-12:00pm
1:00pm-5:00pm
---
Stay Connected with GenCen
Subscribe to our newsletters to stay up-to-date on the latest GenCen news and events, funding opportunities, and more.
Follow @MSUGenCen on Twitter, LinkedIn, and Facebook. We also have a Facebook discussion group, where we encourage our members to post and comment on relevant gender and sexuality news, events and content.
Questions or comments? Contact us - we're here to be a resource for you!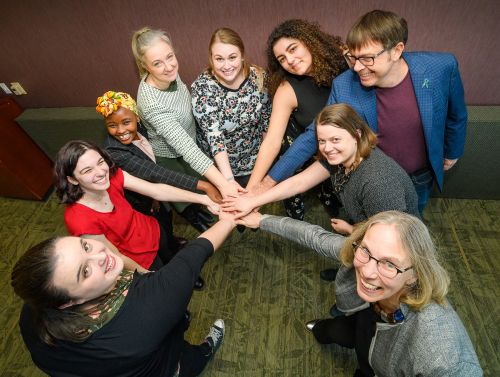 Stephanie Nawyn
Co-Director for Academic Programs, Outreach and Engagement
nawyn(at)msu.edu
Wenda Bauchspies
Co-Director, International Research and Engagement / GJEC Coordinator
bauchspi(at)msu.edu
Rebecca Irvine
Assistant Director
rirvine(at)msu.edu
Greg Frens
Accountant
frensgre(at)msu.edu
Emily Khan
Office Manager / Fiscal Officer
gencen(at)msu.edu / kenne369(at)msu.edu
Rhys Sirna
Undergraduate Intern
gencenic(at)msu.edu
GPID Papers Managing Editor
papers(at)msu.edu / widworkingpapers(at)gmail.com 
Graduate Student Advisor 
gencenga(at)msu.edu
Undergraduate Student Advisor
gencenad(at)msu.edu
---