Center for Gender in
Global Context
206 International Center
427 N. Shaw Lane
East Lansing, MI 48824
Phone: 517-353-5040
Fax: 517-432-4845
Email: gencen(at)msu.edu
Office Hours:
Monday-Friday
8:00am-12:00pm
1:00pm-5:00pm
---
Stay Connected with GenCen
Fill out our email contact form to stay up-to-date on the latest GenCen news and events, or opportunities available to students.

Questions or comments? Contact us - we're here to be a resource for you!
Keep up with our News and Events, and stay connected with us on through our Twitter and Facebook page and discussion group, where we encourage our members to post and comment on relevant gender and sexuality news, events and content.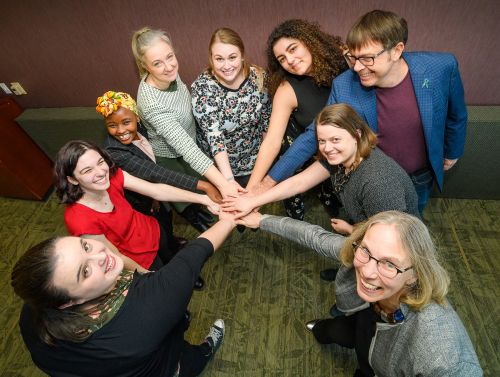 Stephanie Nawyn
Co-Director for Academic Programs, Outreach and Engagement
nawyn(at)msu.edu
Wenda Bauchspies
Co-Director, International Research and Engagement, GJEC Coordinator
bauchspi(at)msu.edu
Rebecca Irvine
Assistant Director
rirvine(at)msu.edu
Greg Frens
Research Administrator and Fiscal Officer
frensgre(at)msu.edu
Emily Khan
Office Manager
kenne369(at)msu.edu / gencen(at)msu.edu
Rowenn Kalman
GenCen Graduate Student Advisor (GJEC/GSID Specializations)
gencenga(at)msu.edu
GPID Papers Managing Editor
papers(at)msu.edu / widworkingpapers(at)gmail.com 
Interim Undergraduate Student Advisor
gencenad(at)msu.edu
Rhys Sirna
Undergraduate Intern
gencenic(at)msu.edu
---