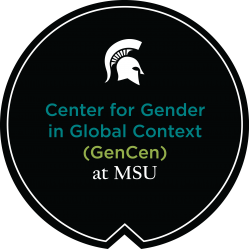 The Center for Gender in Global Context (GenCen), located in International Studies and Programs, acts as a resource and catalyst on gender in a global perspective. Working together with the academic colleges at Michigan State, we promote outstanding undergraduate and graduate education, advance gender- and sexuality-related interdisciplinary research of the highest caliber, and undertake innovative outreach and active learning initiatives.
Our focus is on gender and women's studies through intersectional, interdisciplinary, comparative, transnational, and transcultural approaches. Through our Community Board, faculty, students, and staff, GenCen works to increase knowledge about how lives are affected by global processes and highlight the intersections of gender identities with racial, sexual, socioeconomic, and other differences in the context of global change.
"Innovation typically occurs in the margins—borderlands where different worldviews and values intersect in an environment that enables the emergence of new ideas and dialogues. By being a space where colleagues can engage across, through, and with different disciplines, we support dialogues that inspire, research that understands power, and solutions that embrace complexity." -Wenda Bauchspies, Co-director for International Research and Engagement
As part of fulfilling our mission, GenCen administers one undergraduate major, two undergraduate minors, and three graduate specializations. Working with colleges, departments, and academic units across campus, we provide opportunities for active learning, including education abroad, research mentoring, and internships.  These experiences, along with our strong curriculum, deepen students' understandings of gender relations, the cultural and material politics of place, and the relationships between global and local transformations in real-world contexts.
---
Stay Connected with GenCen
Subscribe to our newsletters to stay up-to-date on the latest GenCen news and events, funding opportunities, and more.
Follow @MSUGenCen on Twitter, LinkedIn, and Facebook. We also have a Facebook discussion group, where we encourage our members to post and comment on relevant gender and sexuality news, events and content.
Questions or comments? Contact us - we're here to be a resource for you!
Center for Gender in Global Context
International Center
427 N. Shaw Lane, Room 206
East Lansing, MI 48824
Phone: 517-353-5040
Email: gencen(at)msu.edu