Education Abroad Photo Contest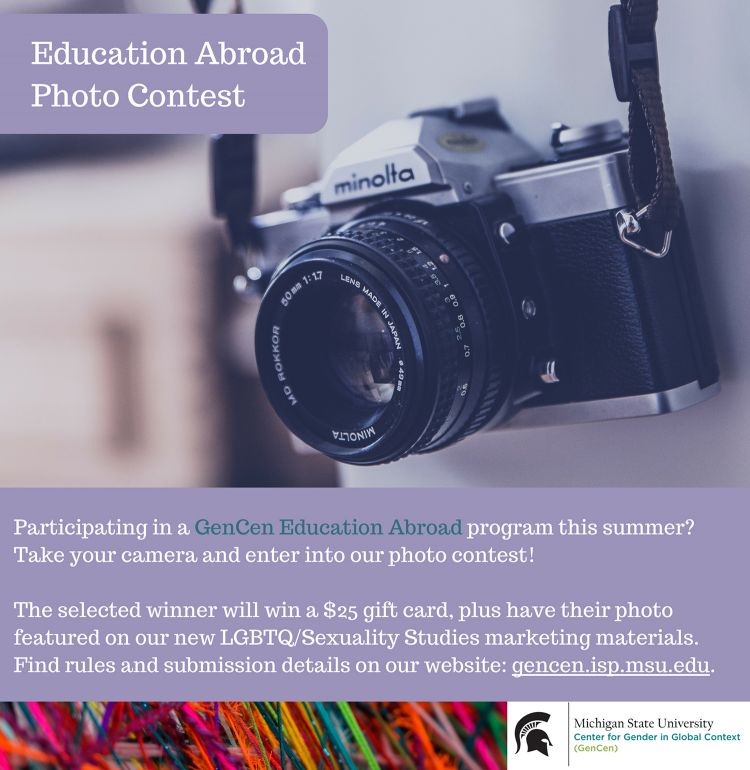 The GenCen Education Abroad Photo Contest is open to all WGS majors, WGS minors, and LGBTQ/Sexuality Studies minors participating in one of our two Education Abroad programs during MSU's summer 2018 semester. The two programs are: Gender, Sex, and Feminism in the UK and Sexual Orientation, Gender Identity & Sexual Politics in Amsterdam. Official rules are listed below.
---
Submitted photographs must be original works by the submitting student.

Submitted photographs 

should not contain identifiable portraits or group images.

 Photographs that contain identifiable human beings may be disqualified.

Submitted photographs should represent the Education Abroad experience and LGBTQ/Sexuality Studies interests.
Submitted photographs should be submitted in a JPEG format, and should be at original resolution (preferably 300ppi or greater).
Upon submission, the photographer grants the Center for Gender in Global Context the right to use any photographs in marketing materials, social media postings, or website updates, regardless of whether the photo is selected as the contest winner.
Photograph submissions are due to GenCen by 5:00pm EST August 24, 2018.

Subject line of email should be: Education Abroad Photo Contest Entry
Submissions should include the photograph(s), the first and last name of the student, the Education Abroad program they participated in, and their preferred method of contact (with corresponding contact info).
Photographers may submit up to three (3) different photographs for consideration in the contest. Any photos beyond the first three will not be considered. 

The contest winner will be announced within three weeks of the contest end (by 5:00pm EST September 14, 2018).

The winner's photograph will be featured on the new marketing materials for the LGBTQ/Sexuality Studies minor at Michigan State University.
The winner will receive a $25 gift card to a store with a physical location in East Lansing, Michigan.

GenCen reserves the right to establish more than one winner for the contest. Upon such case, each will receive their own $25 gift card.
We are so excited to see your photos - best of luck to all participants!