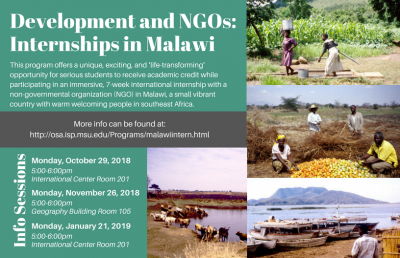 The Development and NGOs: Internships in Malawi program offers a unique, exciting, and 'life-transforming' opportunity for serious students to receive academic credit while participating in an immersive, 7-week international internship with a non-governmental organization (NGO) in Malawi, a small vibrant country with warm welcoming people in southeast Africa. More info can be found at the Edu Abroad website.
Upcoming Info Sessions:
No additional info sessions for Summer 2019. Please check back in Fall 2019 for Summer 2020 Info Session dates.