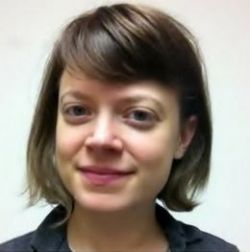 Rowenn Kalman
Assistant Professor and Graduate Student Advisor
Bio:
I recently earned a PhD in Anthropology with a specialization in Gender, Justice, and Environmental Change (MSU 2017). My dissertation, titled "Environmental Stewardship and the Production of Subjectivities: Indigenous, Scientific, and Economic Rationalities in Ancash, Peru," examines how NGOs, rural farmers, mine engineers, and various state officials conceptualize and enact different versions of environmental consciousness as they attempt to assert authority over key resources like water. My principal case study of resource management in Vicos, Peru, illustrates the complexities of stewardship participation resulting from (and giving rise to) different aspects of multifaceted subjectivity including gender, indigeneity, economic incentives, and environmental science. I worked alongside NGO and civil society groups in the Andes while conducting this research, and look forward to developing future collaborations as I disseminate my findings. As GenCen's Graduate Student Advisor, I assist students in creating plans of study that increase their expertise on Gender and Environment (GJEC) and/or International Development (GSID). I also teach introductory and upper-division courses in Anthropology and Women's Studies with a focus on Cultural Anthropology, Gender, International Development, Political Ecology, and Latin America (e.g., ANP 201, WS 403, and ANP 325).
Pets?
I don't have any pets, but my daughter sometimes pretends to be a puppy.
Fun Fact:
On weekends I like to draw and paint.