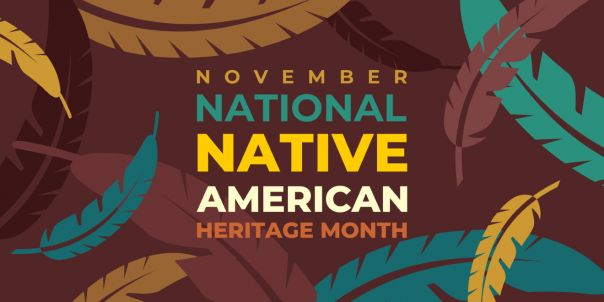 About
Native American Heritage Month is celebrated every November, in order to commemorate the rich history of those who first inhabited this country. This month was created in 1990, by President George H. W. Bush.
As Michigan State University is a land-grant institution, it is important for us to acknowledge the indigenous land that we occupy. We collectively acknowledge that Michigan State University occupies the ancestral, traditional, and contemporary Lands of the Anishinaabeg – Three Fires Confederacy of Ojibwe, Odawa, and Potawatomi peoples. In particular, the University resides on Land ceded in the 1819 Treaty of Saginaw. We recognize, support, and advocate for the sovereignty of Michigan's twelve federally-recognized Indian nations, for historic Indigenous communities in Michigan, for Indigenous individuals and communities who live here now, and for those who were forcibly removed from their Homelands. By offering this Land Acknowledgement, we affirm Indigenous sovereignty and will work to hold Michigan State University more accountable to the needs of American Indian and Indigenous peoples.
Events
MSU Indigenous Studies Working Group Sessions, Urban Planning and Landscape Architecture Room 105:
Pandemic-Related - November 5th, 12-1:30PM ET
Beyond Land Acknowledgements - November 19th, 12-1:30PM ET
Click here for more information
The Native American Indigenous Student Organization hosts General Assembly Meetings every Wednesday 6:30-7:30pm, in G33 North Hubbard Hall
Follow @MSUNAISO on Instagram for more information
Highlighting Faculty Achievements
Estrella Torrez, PhD
Dr. Estrella Torrez is Associate Professor in the Residential College in the Arts and Humanities, as well as the co-founder and co-director of the Indigenous Youth Empowerment Program. Her research centers on language politics and the importance of community-based knowledge, particularly among rural Latino and urban Indigenous communities. 
In the spring of 2013, she initiated the Nuestros Cuentos collaborative project with the College Assistance Migrant Program and Lansing School District. Nuestros Cuentos brings together students from MSU's RCAH and CAMP with elementary-aged Latino youth in a storytelling project. The project results in a fully illustrated children's book sharing the youth's experiences of living in Michigan. Since the inception of Nuestros Cuentos over dozens have had their stories published in two volumes. Recently, Dr. Torrez expanded the project to include the perspectives of Indigenous youth (Gadabaajiimowinaanin).  In addition to her community-based research, Dr. Torrez's scholarly interests include the intersection of critical pedagogy, civic engagement, multicultural education, Indigenous education, and sociocultural literacy.
Rocío Quispe-Agnoli
Dr. Rocío Quispe-Agnoli is a Professor of Latin American Studies in the Department of Romance and Classical Studies.  She specializes in Indigenous writers and artists of the colonial period (1500-1800).
She has published over seventy articles and book chapters in her areas of expertise and her research has been supported by The Newberry Library, Lilly Library (Indiana University), New York Public Library, the Hispanic Society of America, Library of Congress en Washington DC, Archivo General de Indias and Archivo Histórico Nacional (Spain). She is the recipient of recognitions from MSU and the Peruvian community at large such as the 2012 Fintz Award for Teaching Excellence, the 2013 Successful Peruvian Woman in America granted by Peru's Embassy in the USA, and the 2019 Inspirational Woman of the Year Award. She is the Editor in Chief of the Journal of Gender and Sexuality Studies (REGS in Spanish). 
Additional Resources