Date:

Thursday, 27 Feb 2020

Time:

3:00 p.m. to 4:30 p.m.

Location:

International Center Room 201

Department:

Center for Gender in Global Context
Read Event Details

Join leaders from student activist organizations to learn how they advocate for social change and how we can all work together to address critical issues on campus.
Date:

Wednesday, 11 Mar 2020

Time:

2:30 p.m. to 3:30 p.m.

Location:

International Center Room 204

Department:

Center for Gender in Global Context
Read Event Details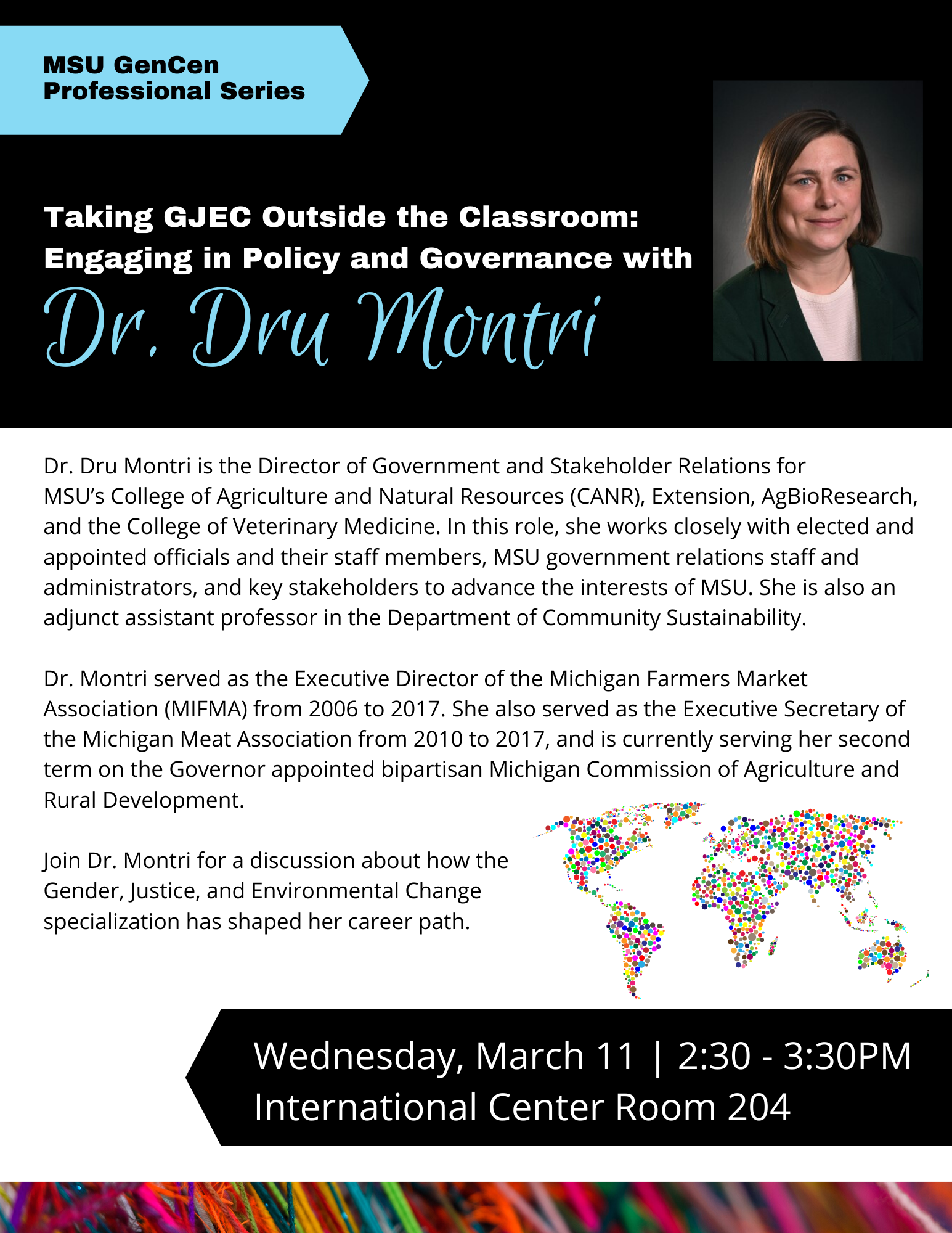 Facebook Event
Dr. Dru Montri is the Director of Government and Stakeholder Relations for MSU's College of Agriculture and Natural Resources (CANR), Extension, AgBioResearch, and the College of Veterinary Medicine. In this role, she works closely with elected and appointed officials and their staff members, MSU government relations staff and administrators, and key stakeholders to advance the interests of MSU. She is also an adjunct assistant professor in the Department of Community Sustainability.

Dr. Montri served as the Executive Director of the Michigan Farmers Market Association (MIFMA) from 2006 to 2017. She also served as the Executive Secretary of the Michigan Meat Association from 2010 to 2017, and is currently serving her second term on the Governor appointed bipartisan Michigan Commission of Agriculture and Rural Development.

Join Dr. Montri for a discussion about how the Gender, Justice, and Environmental Change specialization has shaped her career path.
Date:

Wednesday, 18 Mar 2020

Time:

5:30 p.m. to 7:30 p.m.

Location:

Wharton Center Jackson Lounge

Department:

Center for Gender in Global Context
Read Event Details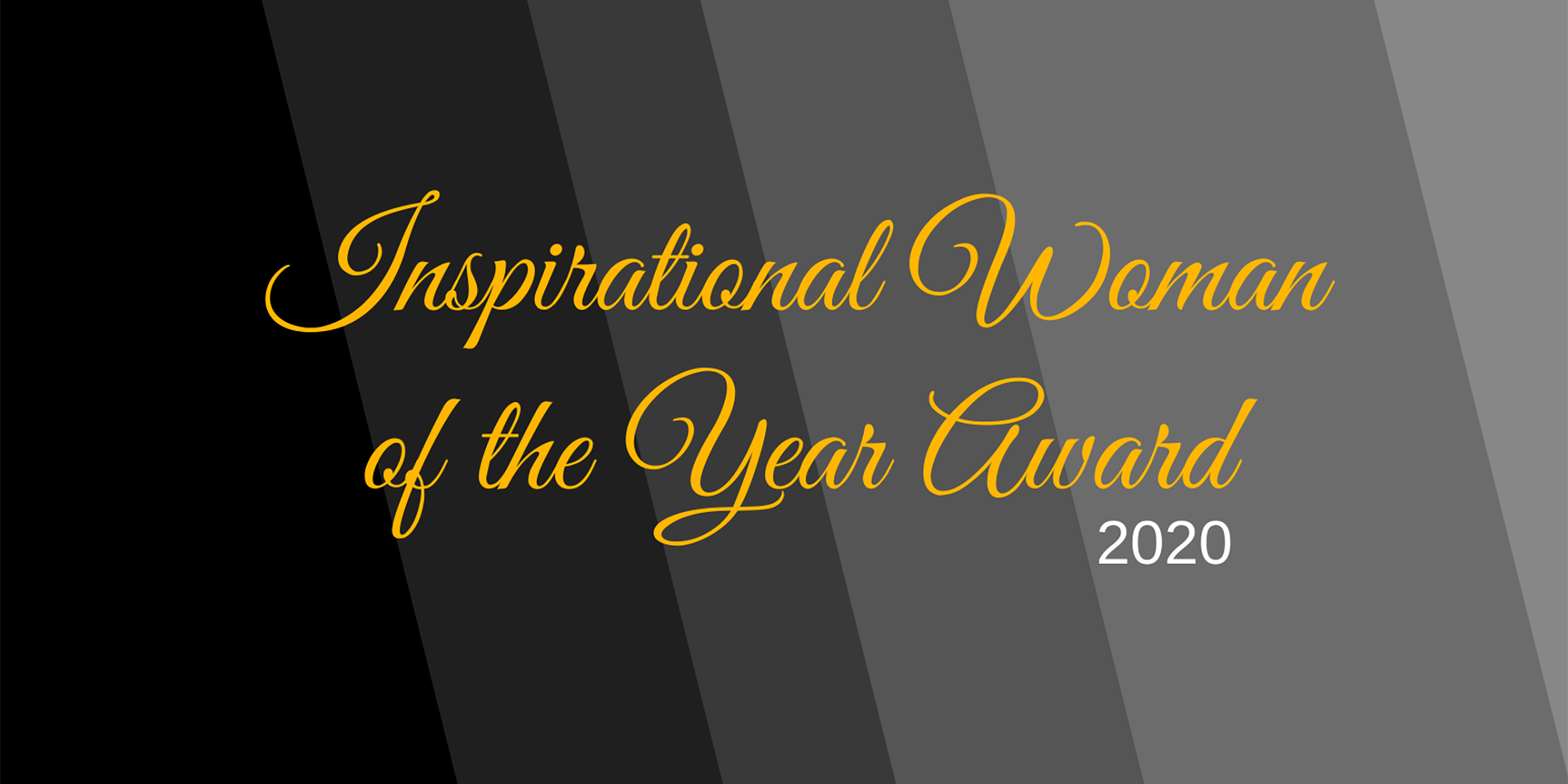 Purchase Tickets
Join us for an evening celebrating the 2020 Inspirational Woman of the Year Award recipients! Women and femme-identified individuals from the MSU & Mid-Michigan community will be recognized. Visit tinyurl.com/iwoty2020 to reserve your $10 ticket.

Ticket price includes entrance, hors d'oeuvres, and one drink ticket. There will be a cash bar available. Event to be held in the Jackson Lounge of the Wharton Center.

We're proud to partner with these organizations:
MSU Student Affairs & Services (Premium Sponsor)
Waggoner Financial (Premium Sponsor)
Asian Buffet
Health & Harmony Massage & Wellness Center
Henry's Place
Kellogg Catering
Kellogg Hotel & Conference Center
Lansing Brewing Company
Lansing City Pulse
Lansing First Presbyterian Church
NCG Cinemas
Williams Subaru
Date:

Friday, 20 Mar 2020

Time:

1:30 p.m. to 3:00 p.m.

Location:

International Center Room 303

Department:

Center for Gender in Global Context
Read Event Details

Join Linda Sayed from the James Madison College for her talk on 'Mapping the Health and Humanitarian Plight of Syrian Refugees in Lebanon.' This presentation is part of an ongoing series of GenCen sponsored colloquia presentations.

The Syrian refugee crisis is one of the largest and most pressing humanitarian issue of our time. Professor Sayed will present her research on the Syrian refugee crisis in Lebanon from the perspective of medical and healthcare needs. Drawing on ethnographic material, and research conducted with United Nations agencies and local NGOs in Lebanon, Professor Sayed analyzes how Syrians negotiate and obtain health and social services. Her research exposes the national and international institutions and infrastructural powers that produce and limit Syrian refugees' political mobilization and accessibility to health services. Her research analyzes the critical intersections between global public health concerns and refugee politics.