Affiliated Faculty Directory
The Center for Gender in Global Context currently has more than 300 affiliated faculty members from throughout MSU's campus, across 17 colleges and more than 65 departments and offices.
The GenCen Faculty Directory can be sorted by Name, College, Department, and GenCen Affiliation. Affiliates can be Core, Consulting, GJEC, or GDG Faculty (some members may be both GJEC/GDG and Core or Consulting). Click here to jump to a short description of our Faculty Affiliations.

Back to Directory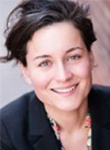 Zarena Aslami
Zarena Aslami's research and teaching focus on nineteenth-century British literature and culture. Special areas of interest include empire, history and theory of the novel, feminism, psychoanalysis, and the digital humanities. She is the author of The Dream Life of Citizens: Late Victorian Novels and the Fantasy of the State (Fordham University Press, 2012), which explores how novels dramatized the feelings and fantasies of a liberal culture that was increasingly optimistic, as well as anxious, about the states capacity to step in and help its citizens achieve the good life. Her current book project, Sovereign Anxieties: Victorian Afghanistan and the Literatures of Empire, continues this line of inquiry, examining the affective content of political forms in a transnational context.
---
What do our Faculty Affiliations Mean?
Core Faculty have a strong continuing professional focus on issues of women and gender in domestic, international, or global contexts, as demonstrated through research and teaching or other achievements. The Core Faculty supports the activities of GenCen and assists in developing and implementing its programs and activities, and are also eligible to serve on the GenCen Advisory Committee.
Consulting Faculty, while having a professional interest in issues of women and gender in domestic, international, or global contexts and activities of the GenCen, usually do not have these interests as the main focus of their research. 
GDG (Gender, Development and Globalization) Faculty will also be either Core or Consulting Faculty and have specific expertise and interest in gender and international development.
GJEC (Gender, Justice and Environmental Change) Faculty may also be either Core or Consulting Faculty, though that is not a requirement. GJEC Faculty are dedicated to teaching and scholarship related to intersections of gender, environmental change, and social and environmental justice; examining these issues from both local and global perspectives.