The Center for Gender in Global Context currently has more than 275 affiliated faculty members from throughout MSU's campus, across 17 colleges and more than 65 departments and offices.
The GenCen Faculty Directory can be sorted by Name, College, Department, and GenCen Affiliation. Affiliates can be Core, Consulting, GJEC, or GDG Faculty (some members may be both GJEC/GDG and Core or Consulting). Click here to jump to a short description of our Faculty Affiliations.

Back to Directory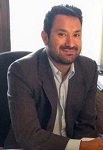 Fredy Rodriguez-Mejia
Fredy Rodriguez-Mejia holds a PhD from MSU's Department of Anthropology, where his dissertation research focused on the articulation and intersection of gendered, ethnic, and racial identities among the Ch'orti' Maya of Western Honduras in the context of political activism, development initiatives, and the tourism industry. Before coming to MSU, Fredy completed a BA in Anthropology with an specialization in Latin American Studies from the University of Delaware and an MA in Applied Anthropology from Northern Arizona University. As an assistant professor in the Department of Anthropology, Fredy now also serves as an affiliate faculty in GenCen's GJEC specialization. He is currently teaching ANP 325: Anthropology of the Environment and Development, and has previously taught ANP 410: Anthropology of Latin America, ANP 431 (Senior seminar on Gender, the Environment, and Development), ANP 370: Culture, Health, and Illness, ANP 320: Social and Cultural Theory, ANP 201: Introduction to Socio-cultural Anthropology, and ANP 200: Navigating Another Culture.
What do our Faculty Affiliations Mean?
Core Faculty have a strong continuing professional focus on issues of women and gender in domestic, international, or global contexts, as demonstrated through research and teaching or other achievements. The Core Faculty supports the activities of GenCen and assists in developing and implementing its programs and activities, and are also eligible to serve on the GenCen Advisory Committee.
Consulting Faculty, while having a professional interest in issues of women and gender in domestic, international, or global contexts and activities of the GenCen, usually do not have these interests as the main focus of their research. 
GDG (Gender, Development and Globalization) Faculty will also be either Core or Consulting Faculty and have specific expertise and interest in gender and international development.
GJEC (Gender, Justice and Environmental Change) Faculty may also be either Core or Consulting Faculty, though that is not a requirement. GJEC Faculty are dedicated to teaching and scholarship related to intersections of gender, environmental change, and social and environmental justice; examining these issues from both local and global perspectives.