The Center for Gender in Global Context currently has more than 275 affiliated faculty members from throughout MSU's campus, across 17 colleges and more than 65 departments and offices.
The GenCen Faculty Directory can be sorted by Name, College, Department, and GenCen Affiliation. Affiliates can be Core, Consulting, GJEC, or GDG Faculty (some members may be both GJEC/GDG and Core or Consulting). Click here to jump to a short description of our Faculty Affiliations.

Back to Directory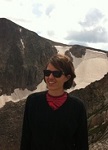 Lily Woodruff
College:
Arts and Letters
Department:
Art, Art History and Design
Affiliation: Consulting
Email:
Lily Woodruff received a dual Ph.D. in Art History from Northwestern University and in Histoire et Civilisation from the Ecole des Hautes Etudes en Sciences Sociales (Paris), both in 2012. Her research examines contemporary art with specific focuses on social and institutional critique, technology, participation, and exchange between Europe and the Americas during the post-WWII period. Her first book project titled Disordering the Establishment: Art, Display, and Participation in France, 1958-1981 is an analysis of the way that artists transformed techniques of institutional conservatism in order to encourage critical public participation and social engagement. Specifically, she analyzes the kinetic painting and sculpture of the Groupe de Recherche d'Art Visuel, Andre Cadere and Daniel Buren's post-minimalist installations, and the community-based media projects of the Collectif d'Art Sociologique. Her research has been supported by fellowships from Northwestern University, and grants from Chateaubriand, Jeanne Marandon, and the Center for Advanced Study in the Visual Arts. At MSU, Lily is a member of the Global Studies in Art and Humanities, a consulting member of the Center for Gender in Global Context, and an occasional contributor to the Film Collective.
What do our Faculty Affiliations Mean?
Core Faculty have a strong continuing professional focus on issues of women and gender in domestic, international, or global contexts, as demonstrated through research and teaching or other achievements. The Core Faculty supports the activities of GenCen and assists in developing and implementing its programs and activities, and are also eligible to serve on the GenCen Advisory Committee.
Consulting Faculty, while having a professional interest in issues of women and gender in domestic, international, or global contexts and activities of the GenCen, usually do not have these interests as the main focus of their research. 
GDG (Gender, Development and Globalization) Faculty will also be either Core or Consulting Faculty and have specific expertise and interest in gender and international development.
GJEC (Gender, Justice and Environmental Change) Faculty may also be either Core or Consulting Faculty, though that is not a requirement. GJEC Faculty are dedicated to teaching and scholarship related to intersections of gender, environmental change, and social and environmental justice; examining these issues from both local and global perspectives.