The Center for Gender in Global Context currently has more than 275 affiliated faculty members from throughout MSU's campus, across 17 colleges and more than 65 departments and offices.
The GenCen Faculty Directory can be sorted by Name, College, Department, and GenCen Affiliation. Affiliates can be Core, Consulting, GJEC, or GDG Faculty (some members may be both GJEC/GDG and Core or Consulting). Click here to jump to a short description of our Faculty Affiliations.

Back to Directory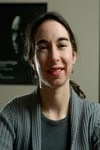 Robin Silbergleid
Robin Silbergleid works in the areas of creative writing (poetry and creative nonfiction), twentieth- and twenty-first century American literature and culture, narrative theory, and women's/gender studies. As a writer who holds both a PhD and MFA, she is particularly interested in exploring the sometimes vexed relationships between critical and creative writing; her current project, Reading Maso, combines sustained close readings of Carole Maso's novels with personal essay and poetic fragments. Additionally, she is co-editing a book, Critical Innovations: Reading and Writing Experimental Texts that explores performative and creative modes of literary analysis. Her creative work focuses on issues of domesticity and the female body, specifically single parenting, reproductive loss, and infertility. She is the author of the poetry collection The Baby Book (CavanKerry Press, 2015) and the memoir Texas Girl (Demeter Press, 2014), as well as the chapbooks Pas de Deux: Prose and Other Poems (Basilisk Press, 2006) and Frida Kahlo, My Sister (Finishing Line, 2014). Individual essays and poems can be found in a range of venues, online and in print, and have been twice nominated for the Pushcart Prize. She is a frequent contributor to Role Reboot on issues related to fertility and family, and collaborates with the national art, oral history, and portraiture project The ART of Infertility.
What do our Faculty Affiliations Mean?
Core Faculty have a strong continuing professional focus on issues of women and gender in domestic, international, or global contexts, as demonstrated through research and teaching or other achievements. The Core Faculty supports the activities of GenCen and assists in developing and implementing its programs and activities, and are also eligible to serve on the GenCen Advisory Committee.
Consulting Faculty, while having a professional interest in issues of women and gender in domestic, international, or global contexts and activities of the GenCen, usually do not have these interests as the main focus of their research. 
GDG (Gender, Development and Globalization) Faculty will also be either Core or Consulting Faculty and have specific expertise and interest in gender and international development.
GJEC (Gender, Justice and Environmental Change) Faculty may also be either Core or Consulting Faculty, though that is not a requirement. GJEC Faculty are dedicated to teaching and scholarship related to intersections of gender, environmental change, and social and environmental justice; examining these issues from both local and global perspectives.