The Center for Gender in Global Context currently has more than 275 affiliated faculty members from throughout MSU's campus, across 17 colleges and more than 65 departments and offices.
The GenCen Faculty Directory can be sorted by Name, College, Department, and GenCen Affiliation. Affiliates can be Core, Consulting, GJEC, or GDG Faculty (some members may be both GJEC/GDG and Core or Consulting). Click here to jump to a short description of our Faculty Affiliations.

Back to Directory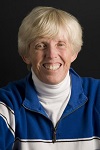 Anita Skeen
College:
Residential College in the Arts and Humanities
Department:
Residential College in the Arts and Humanities
Affiliation: Core
Email:
Anita Skeen is professor in the Residential College in the Arts and Humanities (RCAH) at Michigan State University, where she is the arts coordinator and director of the RCAH Center for Poetry. Anita began her teaching career at Bowling Green State University, where she received an MA in English literature in 1970 and an MFA in creative writing in 1971. She later taught in the MFA program at Wichita State University where she received the Regents Award for Excellence in Teaching. In 1987, as a member of the board of directors of the Kansas Humanities Council, she helped create "Talking about Literature in Kansas Libraries, a reading and discussion program that continues today. She joined the Michigan State University Department of English in 1990. In 1997 she began serving as the director of the Residential Option in Arts and Letters Program (ROIAL), a living and learning program for selected freshmen and sophomores in the College of Arts and Letters. ROIAL increased her interest in and commitment to undergraduate education and to building links between ROIAL students and other units on campus as well as with the East Lansing community. Since 2005 she has taught the annual writing workshop throughout the month of September that accompanies the One Book, One Community yearly book selection. Anita has also taught in MSU Study Abroad programs in England and Ireland. For a number of summers when she was in college and afterward, Anita served as a city recreation director for low-income housing projects in Charleston, West Virginia, and as a counselor at summer camps in Pennsylvania and New York. She has taught K-12 students while working with the Kansas Arts Commissions Artist in the Schools Program, in college classrooms across the country as a visiting writer and writer-in-residence, in senior citizens centers and libraries, and at Ghost Ranch in Abiquiu, New Mexico. She has been the director of the Creative Arts Program at Ghost Ranch for 32 years and director of the Fall Writing Festival for 16 years. Most recently, in October 2011 she was writer-in-residence at the Aurora Fall Writers Retreat in Aurora, West Virginia; in January 2012 she served as writer-in-residence at Converse College in Spartanburg, SC.
What do our Faculty Affiliations Mean?
Core Faculty have a strong continuing professional focus on issues of women and gender in domestic, international, or global contexts, as demonstrated through research and teaching or other achievements. The Core Faculty supports the activities of GenCen and assists in developing and implementing its programs and activities, and are also eligible to serve on the GenCen Advisory Committee.
Consulting Faculty, while having a professional interest in issues of women and gender in domestic, international, or global contexts and activities of the GenCen, usually do not have these interests as the main focus of their research. 
GDG (Gender, Development and Globalization) Faculty will also be either Core or Consulting Faculty and have specific expertise and interest in gender and international development.
GJEC (Gender, Justice and Environmental Change) Faculty may also be either Core or Consulting Faculty, though that is not a requirement. GJEC Faculty are dedicated to teaching and scholarship related to intersections of gender, environmental change, and social and environmental justice; examining these issues from both local and global perspectives.