The Center for Gender in Global Context currently has more than 275 affiliated faculty members from throughout MSU's campus, across 17 colleges and more than 65 departments and offices.
The GenCen Faculty Directory can be sorted by Name, College, Department, and GenCen Affiliation. Affiliates can be Core, Consulting, GJEC, or GDG Faculty (some members may be both GJEC/GDG and Core or Consulting). Click here to jump to a short description of our Faculty Affiliations.

Back to Directory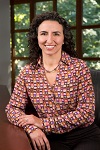 Joy Rankin
College:
Lyman Briggs College/James Madison College
Department:
Lyman Briggs/James Madison
Affiliation: Core
Email:
Joy studies people who historically have not been considered scientists or technologists but who have, nonetheless, produced and applied knowledge about the natural world. She is especially interested in histories of gender, computation, mathematics, and community. Rankin is an Assistant Professor at Michigan State University, holding appointments at Lyman Briggs College in the History, Philosophy, and Sociology of Science group and at James Madison College in the Social Relations and Policy group. Her current book A People's History of Computing is under contract with Harvard University Press. Her next book will likely be a history of the (ridiculous) idea that girls can't do math. Joy currently and enthusiastically serves as a Contributing Editor for the magazine Lady Science, focused on women in science, technology, and medicine. Her research has received recognition and support from, among others, the American Academy of Arts and Sciences, the Charles Babbage Institute for the History of Information Technology, and the IEEE.
What do our Faculty Affiliations Mean?
Core Faculty have a strong continuing professional focus on issues of women and gender in domestic, international, or global contexts, as demonstrated through research and teaching or other achievements. The Core Faculty supports the activities of GenCen and assists in developing and implementing its programs and activities, and are also eligible to serve on the GenCen Advisory Committee.
Consulting Faculty, while having a professional interest in issues of women and gender in domestic, international, or global contexts and activities of the GenCen, usually do not have these interests as the main focus of their research. 
GDG (Gender, Development and Globalization) Faculty will also be either Core or Consulting Faculty and have specific expertise and interest in gender and international development.
GJEC (Gender, Justice and Environmental Change) Faculty may also be either Core or Consulting Faculty, though that is not a requirement. GJEC Faculty are dedicated to teaching and scholarship related to intersections of gender, environmental change, and social and environmental justice; examining these issues from both local and global perspectives.