The Center for Gender in Global Context currently has more than 300 affiliated faculty members from throughout MSU's campus, across 17 colleges and more than 65 departments and offices.
The GenCen Faculty Directory can be sorted by Name, College, Department, and GenCen Affiliation. Affiliates can be Core, Consulting, GJEC, or GDG Faculty (some members may be both GJEC/GDG and Core or Consulting). Click here to jump to a short description of our Faculty Affiliations.

Back to Directory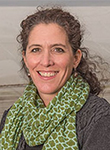 Stephanie White
College:
Agriculture and Natural Resources
Department:
Community Sustainability
Affiliation:
Email:
Stephanie White recently completed her PhD in the Department of Community Sustainability at MSU and presently holds a dual appointment with Community Sustainability's Center for Regional Food Systems (CRFS) and the Global Center for Food Systems Innovation (GCFSI). Her dissertation research focused on urban agriculture in relation to urban socioecological systems, and the ways in which urban residents in MBour, Senegal use it to improve their well-being. Her current research focuses on urban food systems in the global south, primarily in relation small-scale food based livelihoods, which includes urban agriculture, small-scale trade, and urban livestock production. In addition, she is interested in better understanding how social and spatial aspects of urban food environments can foster or inhibit urban food security. Prior to her arrival at MSU, Dr. White worked in Washington, DC for a number of development organizations. She earned an MSc degree in Sustainable Systems/Agroecology from Slippery Rock University in Pennsylvania, and a BA in Political Science from Colorado State University. She was a Peace Corps Volunteer in Senegal, West Africa from 1992-1996.
What do our Faculty Affiliations Mean?
Core Faculty have a strong continuing professional focus on issues of women and gender in domestic, international, or global contexts, as demonstrated through research and teaching or other achievements. The Core Faculty supports the activities of GenCen and assists in developing and implementing its programs and activities, and are also eligible to serve on the GenCen Advisory Committee.
Consulting Faculty, while having a professional interest in issues of women and gender in domestic, international, or global contexts and activities of the GenCen, usually do not have these interests as the main focus of their research. 
GDG (Gender, Development and Globalization) Faculty will also be either Core or Consulting Faculty and have specific expertise and interest in gender and international development.
GJEC (Gender, Justice and Environmental Change) Faculty may also be either Core or Consulting Faculty, though that is not a requirement. GJEC Faculty are dedicated to teaching and scholarship related to intersections of gender, environmental change, and social and environmental justice; examining these issues from both local and global perspectives.