The Center for Gender in Global Context currently has more than 275 affiliated faculty members from throughout MSU's campus, across 17 colleges and more than 65 departments and offices.
The GenCen Faculty Directory can be sorted by Name, College, Department, and GenCen Affiliation. Affiliates can be Core, Consulting, GJEC, or GDG Faculty (some members may be both GJEC/GDG and Core or Consulting). Click here to jump to a short description of our Faculty Affiliations.

Back to Directory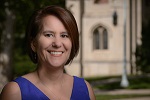 Amy DeRogatis
Amy DeRogatis is Professor of Religion and American Culture. She has taught at Michigan State since 1998. She is the author of Saving Sex: Sexuality and Salvation in American Evangelicalism(Oxford University Press, 2015) and Moral Geography: Maps, Missionaries, and the American Frontier(Columbia University Press, 2003). In December 2014 DeRogatis and her co-PI Isaac Weiner (OSU) received $30,000 for their Religious Soundmap Project of the Global Midwest. This project is supported by the Humanities Without Walls consortium, based at the Illinois Program for Research in the Humanities at the University of Illinois at Urbana-Champaign. The Humanities Without Walls consortium is funded by a grant from the Andrew W. Mellon Foundation. This is a digital humanities project that aims to map the religious diversity of midwestern cities through sound. Over the next 18 months, her research team of MSU faculty and student researchers will make sound recordings of religion "in practice" in the Mid-Michigan area and integrate these recordings, along with interviews, visual images, and explanatory texts, onto a publicly accessible online mapping platform. Prof. DeRogatis has begun a new research project titled "Mormon King" on James Jesse Strang and the Strangite community on Beaver Island, MI in the mid-nineteenth century.
What do our Faculty Affiliations Mean?
Core Faculty have a strong continuing professional focus on issues of women and gender in domestic, international, or global contexts, as demonstrated through research and teaching or other achievements. The Core Faculty supports the activities of GenCen and assists in developing and implementing its programs and activities, and are also eligible to serve on the GenCen Advisory Committee.
Consulting Faculty, while having a professional interest in issues of women and gender in domestic, international, or global contexts and activities of the GenCen, usually do not have these interests as the main focus of their research. 
GDG (Gender, Development and Globalization) Faculty will also be either Core or Consulting Faculty and have specific expertise and interest in gender and international development.
GJEC (Gender, Justice and Environmental Change) Faculty may also be either Core or Consulting Faculty, though that is not a requirement. GJEC Faculty are dedicated to teaching and scholarship related to intersections of gender, environmental change, and social and environmental justice; examining these issues from both local and global perspectives.