The Center for Gender in Global Context currently has more than 275 affiliated faculty members from throughout MSU's campus, across 17 colleges and more than 65 departments and offices.
The GenCen Faculty Directory can be sorted by Name, College, Department, and GenCen Affiliation. Affiliates can be Core, Consulting, GJEC, or GDG Faculty (some members may be both GJEC/GDG and Core or Consulting). Click here to jump to a short description of our Faculty Affiliations.

Back to Directory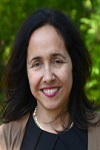 Maria Tatto
Maria Teresa Tatto is an associate professor of teacher education. Her research is characterized by the use of an international-comparative framework to study educational reform and educational policy and their impact on schooling, particularly the role of teachers, teaching, and learning – within varied organizational, economic, political, and social contexts. Her other research interests include the influence of early childhood education on improved knowledge levels for the rural poor, the role of values education on citizenship formation, and the development of effective policies to support the education of children of migrant workers in the U.S. Her work combines the use of quantitative and qualitative approaches and methods. She has done research in Mexico, Sri Lanka, and several countries in Latin America and has served as a consultant to the World Bank and USAID for the governments of the Dominican Republic, Columbia, Guatemala, Mexico and Peru. She is currently the director and principal investigator for the Teacher Education and Development Study in Mathematics, or TEDS-M.
What do our Faculty Affiliations Mean?
Core Faculty have a strong continuing professional focus on issues of women and gender in domestic, international, or global contexts, as demonstrated through research and teaching or other achievements. The Core Faculty supports the activities of GenCen and assists in developing and implementing its programs and activities, and are also eligible to serve on the GenCen Advisory Committee.
Consulting Faculty, while having a professional interest in issues of women and gender in domestic, international, or global contexts and activities of the GenCen, usually do not have these interests as the main focus of their research. 
GDG (Gender, Development and Globalization) Faculty will also be either Core or Consulting Faculty and have specific expertise and interest in gender and international development.
GJEC (Gender, Justice and Environmental Change) Faculty may also be either Core or Consulting Faculty, though that is not a requirement. GJEC Faculty are dedicated to teaching and scholarship related to intersections of gender, environmental change, and social and environmental justice; examining these issues from both local and global perspectives.