The Center for Gender in Global Context currently has more than 275 affiliated faculty members from throughout MSU's campus, across 17 colleges and more than 65 departments and offices.
The GenCen Faculty Directory can be sorted by Name, College, Department, and GenCen Affiliation. Affiliates can be Core, Consulting, GJEC, or GDG Faculty (some members may be both GJEC/GDG and Core or Consulting). Click here to jump to a short description of our Faculty Affiliations.

Back to Directory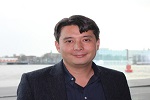 Joshua Yumibe
Joshua Yumibe's research focuses on the aesthetic and technological history of cinema. He is the author of Moving Color: Early Film, Mass Culture, Modernism (Rutgers University Press, 2012), which examines early color cinema in relation to the cultural and aesthetic horizon of modernism and modernity. Other areas of interest include avant-garde and experimental cinemas, nineteenth and early twentieth century visual culture, Frankfurt school theory, and archival theories and practices. He is also the co-author of Fantasia of Color in Early Cinema (Amsterdam University Press, 2015), with Giovanna Fossati, Tom Gunning, and Jonathon Rosen. With Sarah Street (University of Bristol), Yumibe is working on the co-authored book Chromatic Modernity: Color, Cinema, and Media of the 1920s (under contract with Columbia University Press). The book investigates the major spheres of color expression in commercial and experimental motion pictures of the 1920s, and derives from research conducted through the Leverhulme Trust funded project, "Colour in the 1920s: Cinema and Its Intermedial Contexts." Since 2003, Yumibe has been collaborating with Paolo Cherchi Usai on the archival collection, Davide Turconi Project. In 2011, they launched the project online to provide access to the collection as part of the 30th anniversary of the Giornate del Cinema. In 2016, he was a recipient of the Michigan State University Teacher-Scholar Award, which is granted to faculty who early in their careers have earned the respect of students and colleagues for their devotion to and skill in teaching, and whose instruction is linked to and informed by their research and creative activities.
What do our Faculty Affiliations Mean?
Core Faculty have a strong continuing professional focus on issues of women and gender in domestic, international, or global contexts, as demonstrated through research and teaching or other achievements. The Core Faculty supports the activities of GenCen and assists in developing and implementing its programs and activities, and are also eligible to serve on the GenCen Advisory Committee.
Consulting Faculty, while having a professional interest in issues of women and gender in domestic, international, or global contexts and activities of the GenCen, usually do not have these interests as the main focus of their research. 
GDG (Gender, Development and Globalization) Faculty will also be either Core or Consulting Faculty and have specific expertise and interest in gender and international development.
GJEC (Gender, Justice and Environmental Change) Faculty may also be either Core or Consulting Faculty, though that is not a requirement. GJEC Faculty are dedicated to teaching and scholarship related to intersections of gender, environmental change, and social and environmental justice; examining these issues from both local and global perspectives.