The Center for Gender in Global Context currently has more than 275 affiliated faculty members from throughout MSU's campus, across 17 colleges and more than 65 departments and offices.
The GenCen Faculty Directory can be sorted by Name, College, Department, and GenCen Affiliation. Affiliates can be Core, Consulting, GJEC, or GDG Faculty (some members may be both GJEC/GDG and Core or Consulting). Click here to jump to a short description of our Faculty Affiliations.

Back to Directory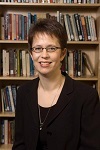 Allison Berg
Professor Berg's research focuses on twentieth-century American literature and culture, with an emphasis on African American literature and on issues of race, gender, class, and sexuality. She has published articles on William Faulkner, Pauline Hopkins, Marita Bonner, the Harlem Renaissance, and contemporary film. Her book Mothering the Race: Women's Narratives of Reproduction, 1890-1930 (University of Illinois Press, 2002) examines African American and white women's novels about motherhood in the context of racial uplift, feminist, birth control, and eugenics movements. Her recent publications include: "Integrating African American Literature and Writing at a College of Public Affairs," in Integrating Writing and Literature in First-Year English (Modern Language Association, 2007); and "Trauma and Testimony in Black Women's Civil Rights Memoirs," in the Journal of Women's History 21.3 (Fall 2009). Professor Berg was awarded a University Lilly Teaching Fellowship for 1999-2000. She is the current faculty director of the James Madison Writing Consultancy and a core faculty member of MSU's Center for Gender in Global Context (GenCen).
What do our Faculty Affiliations Mean?
Core Faculty have a strong continuing professional focus on issues of women and gender in domestic, international, or global contexts, as demonstrated through research and teaching or other achievements. The Core Faculty supports the activities of GenCen and assists in developing and implementing its programs and activities, and are also eligible to serve on the GenCen Advisory Committee.
Consulting Faculty, while having a professional interest in issues of women and gender in domestic, international, or global contexts and activities of the GenCen, usually do not have these interests as the main focus of their research. 
GDG (Gender, Development and Globalization) Faculty will also be either Core or Consulting Faculty and have specific expertise and interest in gender and international development.
GJEC (Gender, Justice and Environmental Change) Faculty may also be either Core or Consulting Faculty, though that is not a requirement. GJEC Faculty are dedicated to teaching and scholarship related to intersections of gender, environmental change, and social and environmental justice; examining these issues from both local and global perspectives.