The Center for Gender in Global Context currently has more than 275 affiliated faculty members from throughout MSU's campus, across 17 colleges and more than 65 departments and offices.
The GenCen Faculty Directory can be sorted by Name, College, Department, and GenCen Affiliation. Affiliates can be Core, Consulting, GJEC, or GDG Faculty (some members may be both GJEC/GDG and Core or Consulting). Click here to jump to a short description of our Faculty Affiliations.

Back to Directory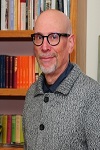 Steven Gold
Steven J. Gold is professor and associate chair in the Department of Sociology at Michigan State University. Educated at Brandeis University, UC Santa Cruz and UC Berkeley, his interests include international migration, ethnic economies, ethnic community development and qualitative field methods. The past president of the International Visual Sociology Association, and past chair of the International Migration Section of the American Sociological Association, Gold is the author, co-author or co-editor of seven books including Refugee Communities: A Comparative Field Study (Sage 1992); From The Workers State to The Golden State (Allyn and Bacon 1995); Immigration Research for a New Century: Multidisciplinary Perspectives with Rubn G. Rumbaut and Nancy Foner (Russell Sage Foundation, 2000); and Ethnic Economies with Ivan Light (Academic Press, 2000). The Israeli Diaspora (Routledge/University of Washington Press 2002) which won the Thomas and Znaniecki Award from the ASAs International Migration Section for the best book on international migration in 2003. The Store in the Hood: A Century of Ethnic Business and Conflict (Roman and Littlefield 2010) was published in 2010 and The Routledge International Handbook of Migration Studies with Professor Stephanie Nawyn (Routledge 2013).
What do our Faculty Affiliations Mean?
Core Faculty have a strong continuing professional focus on issues of women and gender in domestic, international, or global contexts, as demonstrated through research and teaching or other achievements. The Core Faculty supports the activities of GenCen and assists in developing and implementing its programs and activities, and are also eligible to serve on the GenCen Advisory Committee.
Consulting Faculty, while having a professional interest in issues of women and gender in domestic, international, or global contexts and activities of the GenCen, usually do not have these interests as the main focus of their research. 
GDG (Gender, Development and Globalization) Faculty will also be either Core or Consulting Faculty and have specific expertise and interest in gender and international development.
GJEC (Gender, Justice and Environmental Change) Faculty may also be either Core or Consulting Faculty, though that is not a requirement. GJEC Faculty are dedicated to teaching and scholarship related to intersections of gender, environmental change, and social and environmental justice; examining these issues from both local and global perspectives.