The Center for Gender in Global Context currently has more than 275 affiliated faculty members from throughout MSU's campus, across 17 colleges and more than 65 departments and offices.
The GenCen Faculty Directory can be sorted by Name, College, Department, and GenCen Affiliation. Affiliates can be Core, Consulting, GJEC, or GDG Faculty (some members may be both GJEC/GDG and Core or Consulting). Click here to jump to a short description of our Faculty Affiliations.

Back to Directory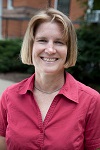 Sonja Fritzsche
College:
Arts and Letters
Department:
Linguistics and German, Slavic, Asian, and African Languages
Affiliation: Consulting
Email:
Sonja Fritzsche is Chair of the Department of Linguistics and Germanic, Slavic, Asian and African Languages and Professor of German and an affiliated faculty of Global Studies in the Arts and Humanities program. Her research focuses on (East) German literature and film, Heimat discourse, ecotopia, and science fiction. She is the editor of the book series World Science Fiction Studies with Peter Lang. Her publications include: The Liverpool Companion to World Science Fiction Film, editor (Liverpool University Press, 2014), Science Fiction Literature in East Germany (Peter Lang, 2006); articles in the German Quarterly, German Politics & Society, German Studies Review, Women in German Yearbook, Film & History, Extrapolation, Utopian Studies and Filmforum. She has received grants from the German Academic Exchange Service (DAAD) and Fulbright, among others. She currently serves as President of the Association of Departments of Foreign Languages (ADFL). She is also on the editorial advisory boards of Extrapolation,the Brazilian science fiction journal Zanzal, and the Indian on-line journal Caesurae: Poetics of Cultural Translation.
What do our Faculty Affiliations Mean?
Core Faculty have a strong continuing professional focus on issues of women and gender in domestic, international, or global contexts, as demonstrated through research and teaching or other achievements. The Core Faculty supports the activities of GenCen and assists in developing and implementing its programs and activities, and are also eligible to serve on the GenCen Advisory Committee.
Consulting Faculty, while having a professional interest in issues of women and gender in domestic, international, or global contexts and activities of the GenCen, usually do not have these interests as the main focus of their research. 
GDG (Gender, Development and Globalization) Faculty will also be either Core or Consulting Faculty and have specific expertise and interest in gender and international development.
GJEC (Gender, Justice and Environmental Change) Faculty may also be either Core or Consulting Faculty, though that is not a requirement. GJEC Faculty are dedicated to teaching and scholarship related to intersections of gender, environmental change, and social and environmental justice; examining these issues from both local and global perspectives.