The Center for Gender in Global Context currently has more than 275 affiliated faculty members from throughout MSU's campus, across 17 colleges and more than 65 departments and offices.
The GenCen Faculty Directory can be sorted by Name, College, Department, and GenCen Affiliation. Affiliates can be Core, Consulting, GJEC, or GDG Faculty (some members may be both GJEC/GDG and Core or Consulting). Click here to jump to a short description of our Faculty Affiliations.

Back to Directory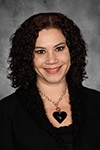 Melanie Jacobs
Professor Jacobs joined the MSU College of Law faculty in 2002 and teaches Family Law: Child, Parent & the State; Decedents' Estates and Trusts; Property; and a seminar in Assisted Reproductive Technologies and the Law. In October 2008, she was a guest lecturer at Fudan University in Shanghai, China. For the 2006-07 year, Professor Jacobs was awarded a Michigan State University Lilly Teaching Fellowship. During the Fall 2004 semester, she was a Visiting Assistant Professor at the William & Mary Marshall-Wythe School of Law, where she taught Family Law and Property. Previously, Professor Jacobs served as a Freedman Fellow and a lecturer in law at Temple University School of Law. Her additional teaching experience includes two years as a clinical instructor for the Hale & Dorr Legal Services Center at Harvard Law School and as an adjunct instructor at the Boston University School of Law. While in the Boston area, Professor Jacobs also engaged in private practice with the firm of Witmer, Karp, Warner & Thuotte and served as counsel to the Massachusetts Department of Revenue Child Support Enforcement Division. Professor Jacobs has written articles and given numerous national and international presentations regarding the need to establish legal recognition for nontraditional families. She has argued in favor of preserving nonbiological parental relationships to foster the best interests of children and her current research and scholarship focuses on moving beyond biological bases of parental determination and recognizing multiple parents.
What do our Faculty Affiliations Mean?
Core Faculty have a strong continuing professional focus on issues of women and gender in domestic, international, or global contexts, as demonstrated through research and teaching or other achievements. The Core Faculty supports the activities of GenCen and assists in developing and implementing its programs and activities, and are also eligible to serve on the GenCen Advisory Committee.
Consulting Faculty, while having a professional interest in issues of women and gender in domestic, international, or global contexts and activities of the GenCen, usually do not have these interests as the main focus of their research. 
GDG (Gender, Development and Globalization) Faculty will also be either Core or Consulting Faculty and have specific expertise and interest in gender and international development.
GJEC (Gender, Justice and Environmental Change) Faculty may also be either Core or Consulting Faculty, though that is not a requirement. GJEC Faculty are dedicated to teaching and scholarship related to intersections of gender, environmental change, and social and environmental justice; examining these issues from both local and global perspectives.