The Center for Gender in Global Context currently has more than 275 affiliated faculty members from throughout MSU's campus, across 17 colleges and more than 65 departments and offices.
The GenCen Faculty Directory can be sorted by Name, College, Department, and GenCen Affiliation. Affiliates can be Core, Consulting, GJEC, or GDG Faculty (some members may be both GJEC/GDG and Core or Consulting). Click here to jump to a short description of our Faculty Affiliations.

Back to Directory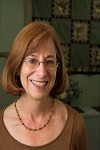 Linda Hunt
Dr. Hunt has conducted research both within the US and in Mexico, primarily concerned with issues in health care and health research on Latino and other minority populations, focusing on ethnicity and health, the management of chronic illness, heath disparities, and the culture of biomedicine. In her current research she is examining the ways that health researchers and clinicians view minority populations, particularly how assumptions about cultural and biological difference are manifest in current health policy, interventions, professional training, research agendas and clinical practice. In one recent project she studied how clinicians present the opportunity for prenatal genetics diagnosis to Latinas and how those patients perceive and respond to the offer. In another, she examined how a group of genetic scientists conceptualize racial and ethnic variables in their work, and how these concepts both reflect and produce social constructs of racial and ethnic differences. In her most recent projects, she is studying how clinicians and patients use and interpret concepts of racial/ethnic genetic, socio-economic and cultural variation in their understandings of disease susceptibility and treatment response, and how electronic health technologies may drive clinical decision making and affect the health care provided to diverse patients. Dr. Hunt currently teaches Overview of Medical Anthropology; Minority Health Research; and Research Methods in Cultural Anthropology.
What do our Faculty Affiliations Mean?
Core Faculty have a strong continuing professional focus on issues of women and gender in domestic, international, or global contexts, as demonstrated through research and teaching or other achievements. The Core Faculty supports the activities of GenCen and assists in developing and implementing its programs and activities, and are also eligible to serve on the GenCen Advisory Committee.
Consulting Faculty, while having a professional interest in issues of women and gender in domestic, international, or global contexts and activities of the GenCen, usually do not have these interests as the main focus of their research. 
GDG (Gender, Development and Globalization) Faculty will also be either Core or Consulting Faculty and have specific expertise and interest in gender and international development.
GJEC (Gender, Justice and Environmental Change) Faculty may also be either Core or Consulting Faculty, though that is not a requirement. GJEC Faculty are dedicated to teaching and scholarship related to intersections of gender, environmental change, and social and environmental justice; examining these issues from both local and global perspectives.