The Center for Gender in Global Context currently has more than 275 affiliated faculty members from throughout MSU's campus, across 17 colleges and more than 65 departments and offices.
The GenCen Faculty Directory can be sorted by Name, College, Department, and GenCen Affiliation. Affiliates can be Core, Consulting, GJEC, or GDG Faculty (some members may be both GJEC/GDG and Core or Consulting). Click here to jump to a short description of our Faculty Affiliations.

Back to Directory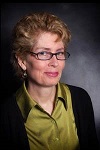 Julia Grant
Julia Grant has taught at James Madison College for over twenty years, after receiving her Ph.D. from Boston University, where she directed the Women's Studies Program, and worked in a non-profit agency providing social services in a community setting. She has taught in the Humanities, Culture, and Writing Program and in Social Relations and Policy in courses ranging from the Politics of Disability to Education Policy, and Sexual Politics. She has been the recipient of a Spencer Fellowship, a Lily Teaching Fellowship, and the Teacher-Scholar Award. Her published work includes Raising Baby by the Book: The Education of American Mothers (Yale, 1998), When Science Encounters the Child: Perspectives on Education, Child Welfare, and Parenting [Teachers College, 2001), and a forthcoming book from Johns Hopkins entitled The Boy Problem in Urban America. She has also published articles on the history of childhood and gender, masculinity, and sexuality. An active member of the Center for Gender in Global Context, she has been acting director of the Center, and created a joint study abroad program between James Madison and Women and Gender Studies, exploring sexual and gender politics in the Netherlands. Her greatest joy has been guiding and advising students as they move through James Madison College to rewarding jobs and personal lives. She looks forward to the opportunity to continue to reshape the vision of James Madison College to meet the challenges of the 21st century, to broaden opportunities for students and faculty, and to be a spokesperson for James Madison as an exemplar of high quality undergraduate education in a large land grant university.
What do our Faculty Affiliations Mean?
Core Faculty have a strong continuing professional focus on issues of women and gender in domestic, international, or global contexts, as demonstrated through research and teaching or other achievements. The Core Faculty supports the activities of GenCen and assists in developing and implementing its programs and activities, and are also eligible to serve on the GenCen Advisory Committee.
Consulting Faculty, while having a professional interest in issues of women and gender in domestic, international, or global contexts and activities of the GenCen, usually do not have these interests as the main focus of their research. 
GDG (Gender, Development and Globalization) Faculty will also be either Core or Consulting Faculty and have specific expertise and interest in gender and international development.
GJEC (Gender, Justice and Environmental Change) Faculty may also be either Core or Consulting Faculty, though that is not a requirement. GJEC Faculty are dedicated to teaching and scholarship related to intersections of gender, environmental change, and social and environmental justice; examining these issues from both local and global perspectives.