The Center for Gender in Global Context currently has more than 275 affiliated faculty members from throughout MSU's campus, across 17 colleges and more than 65 departments and offices.
The GenCen Faculty Directory can be sorted by Name, College, Department, and GenCen Affiliation. Affiliates can be Core, Consulting, GJEC, or GDG Faculty (some members may be both GJEC/GDG and Core or Consulting). Click here to jump to a short description of our Faculty Affiliations.

Back to Directory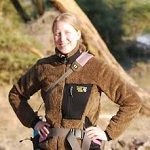 Georgina Montgomery
Dr. Georgina M. Montgomery received her PhD in the History of Science and Technology from the University of Minnesota in 2005. After teaching for two years at Montana State University, she joined Lyman Briggs College (75% appointment) and History (25% appointment) in the fall of 2008. Her research focuses on the history of field science, particularly the development of field methods and sites within primatology and animal behavior studies. Primatology is an international science and therefore her research also engages with issues of race, gender and globalization. Georgina M. Montgomery organized the international and interdisciplinary conference Animals: Past, Present and Future in April of 2009. Ten of the fifty-three papers presented at that conference are included in the volume, Making Animal Meaning, which Montgomery co-edited with Linda Kalof, Professor of Sociology at Michigan State University. Montgomerys other publications include articles for the Journal for the History of Biology and Endeavour, book chapters for Teaching the Animal and a chapter on Darwin and Gender for the Cambridge University Press encyclopedia on Darwin. Montgomery also has a book manuscript (in progress) entitled, Primates in the Real World: Making Primatology Scientific.
What do our Faculty Affiliations Mean?
Core Faculty have a strong continuing professional focus on issues of women and gender in domestic, international, or global contexts, as demonstrated through research and teaching or other achievements. The Core Faculty supports the activities of GenCen and assists in developing and implementing its programs and activities, and are also eligible to serve on the GenCen Advisory Committee.
Consulting Faculty, while having a professional interest in issues of women and gender in domestic, international, or global contexts and activities of the GenCen, usually do not have these interests as the main focus of their research. 
GDG (Gender, Development and Globalization) Faculty will also be either Core or Consulting Faculty and have specific expertise and interest in gender and international development.
GJEC (Gender, Justice and Environmental Change) Faculty may also be either Core or Consulting Faculty, though that is not a requirement. GJEC Faculty are dedicated to teaching and scholarship related to intersections of gender, environmental change, and social and environmental justice; examining these issues from both local and global perspectives.