The Center for Gender in Global Context currently has more than 275 affiliated faculty members from throughout MSU's campus, across 17 colleges and more than 65 departments and offices.
The GenCen Faculty Directory can be sorted by Name, College, Department, and GenCen Affiliation. Affiliates can be Core, Consulting, GJEC, or GDG Faculty (some members may be both GJEC/GDG and Core or Consulting). Click here to jump to a short description of our Faculty Affiliations.

Back to Directory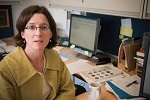 Ellen Velie
College:
Human Medicine
Department:
Epidemiology and Biostatistics
Affiliation: Core
Email:
Ellen Velie is a nutritional and cancer epidemiologist with a particular interest in the health of disadvantaged populations. She joined the Department of Epidemiology at Michigan State University in August, 2000. Before coming to MSU she conducted her PhD research on nutrition and birth defects in Latina and white women in California and completed postdoctoral training through the Cancer Prevention Fellowship in the Nutritional Epidemiology Branch at the National Cancer Institute. Examples of her research include the role of nutrient intakes (e.g. fat and zinc) and dietary patterns in the etiology of birth defects and breast cancer. She has also studied methodologic issues related to nutritional epidemiology, such as dietary assessment, energy-adjustment and alternative approaches to examining dose response trends. Her current research focuses on the interrelationship between social factors (e.g. race and social class) and life course energy balance-related factors (e.g. birth characteristics, childhood diet and growth, pubertal development, diet, physical activity, insulin resistance and obesity), as they relate to cancer and other diseases.
What do our Faculty Affiliations Mean?
Core Faculty have a strong continuing professional focus on issues of women and gender in domestic, international, or global contexts, as demonstrated through research and teaching or other achievements. The Core Faculty supports the activities of GenCen and assists in developing and implementing its programs and activities, and are also eligible to serve on the GenCen Advisory Committee.
Consulting Faculty, while having a professional interest in issues of women and gender in domestic, international, or global contexts and activities of the GenCen, usually do not have these interests as the main focus of their research. 
GDG (Gender, Development and Globalization) Faculty will also be either Core or Consulting Faculty and have specific expertise and interest in gender and international development.
GJEC (Gender, Justice and Environmental Change) Faculty may also be either Core or Consulting Faculty, though that is not a requirement. GJEC Faculty are dedicated to teaching and scholarship related to intersections of gender, environmental change, and social and environmental justice; examining these issues from both local and global perspectives.