The Center for Gender in Global Context currently has more than 275 affiliated faculty members from throughout MSU's campus, across 17 colleges and more than 65 departments and offices.
The GenCen Faculty Directory can be sorted by Name, College, Department, and GenCen Affiliation. Affiliates can be Core, Consulting, GJEC, or GDG Faculty (some members may be both GJEC/GDG and Core or Consulting). Click here to jump to a short description of our Faculty Affiliations.

Back to Directory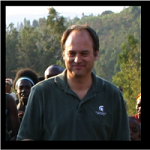 Dan Clay
College:
Agriculture and Natural Resources
Department:
Community Sustainability
Affiliation: Consulting
Email:
Dan Clay is Professor and Director, Global Programs in Sustainable Agri-food Systems in the Department of Community Sustainability, and Senior Associate to the Dean, CANR. His work in agricultural and rural development focuses on issues of sustainable food and agricultural value chain development (high value exports), food security, food aid impacts, household livelihood strategies, relief-development linkages, conservation investments, sustainable agricultural intensification, and household survey methodologies. His current/recent research and international development activities include smallholder food security and coffee value chain development in Rwanda and Burundi; satellite-based methods for forecasting and famine early warning in Senegal; and horticulture value chains and food safety in Vietnam and Thailand (WTO sponsored) and Rwanda (EU sponsored). Dan's domestic research program focuses on sports analytics, notably the ecological and organizational determinants of performance and success in college athletics.
What do our Faculty Affiliations Mean?
Core Faculty have a strong continuing professional focus on issues of women and gender in domestic, international, or global contexts, as demonstrated through research and teaching or other achievements. The Core Faculty supports the activities of GenCen and assists in developing and implementing its programs and activities, and are also eligible to serve on the GenCen Advisory Committee.
Consulting Faculty, while having a professional interest in issues of women and gender in domestic, international, or global contexts and activities of the GenCen, usually do not have these interests as the main focus of their research. 
GDG (Gender, Development and Globalization) Faculty will also be either Core or Consulting Faculty and have specific expertise and interest in gender and international development.
GJEC (Gender, Justice and Environmental Change) Faculty may also be either Core or Consulting Faculty, though that is not a requirement. GJEC Faculty are dedicated to teaching and scholarship related to intersections of gender, environmental change, and social and environmental justice; examining these issues from both local and global perspectives.