The Center for Gender in Global Context currently has more than 275 affiliated faculty members from throughout MSU's campus, across 17 colleges and more than 65 departments and offices.
The GenCen Faculty Directory can be sorted by Name, College, Department, and GenCen Affiliation. Affiliates can be Core, Consulting, GJEC, or GDG Faculty (some members may be both GJEC/GDG and Core or Consulting). Click here to jump to a short description of our Faculty Affiliations.

Back to Directory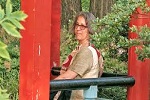 Carolyn Loeb
College:
Residential College in the Arts and Humanities
Department:
Residential College in the Arts and Humanities
Affiliation: Core
Email:
Carolyn Loeb is an art and architectural historian interested in arts complex and multi-voiced (and sometimes zany) dialogue with social realities. She joined the RCAH after teaching for many years in the art department at Central Michigan University, where her courses focused on modern and contemporary art, women and art, and modern architecture. In 1994 she taught in the Midwest Consortium for Study Abroads Vienna Program, where the city itself was the classroom. Carolyn's research focuses on themes in architectural history. Her interest in housing is reflected in Entrepreneurial Vernacular: Developers Subdivisions in the 1920s (Johns Hopkins Press, 2001) as well as in work on the municipal housing of Red Vienna. Recently she has been studying aspects of redevelopment in reunified Berlin. She has written on housing in East Berlin, planning decisions in the zone where the Wall formerly stood, redevelopments theoretical and historical underpinnings, and the relationship of contemporary public sculpture in Berlin to urban history, public space, memory, and redevelopment.
What do our Faculty Affiliations Mean?
Core Faculty have a strong continuing professional focus on issues of women and gender in domestic, international, or global contexts, as demonstrated through research and teaching or other achievements. The Core Faculty supports the activities of GenCen and assists in developing and implementing its programs and activities, and are also eligible to serve on the GenCen Advisory Committee.
Consulting Faculty, while having a professional interest in issues of women and gender in domestic, international, or global contexts and activities of the GenCen, usually do not have these interests as the main focus of their research. 
GDG (Gender, Development and Globalization) Faculty will also be either Core or Consulting Faculty and have specific expertise and interest in gender and international development.
GJEC (Gender, Justice and Environmental Change) Faculty may also be either Core or Consulting Faculty, though that is not a requirement. GJEC Faculty are dedicated to teaching and scholarship related to intersections of gender, environmental change, and social and environmental justice; examining these issues from both local and global perspectives.