The Center for Gender in Global Context currently has more than 275 affiliated faculty members from throughout MSU's campus, across 17 colleges and more than 65 departments and offices.
The GenCen Faculty Directory can be sorted by Name, College, Department, and GenCen Affiliation. Affiliates can be Core, Consulting, GJEC, or GDG Faculty (some members may be both GJEC/GDG and Core or Consulting). Click here to jump to a short description of our Faculty Affiliations.

Back to Directory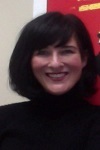 Aminda Smith
I specialize in modern Chinese history with a particular interest in the social and cultural history of Chinese Communism. My recent book, Thought Reform and China's Dangerous Classes: Reeducation, Resistance, and the People, explores what is arguably the Chinese government's most controversial social policy thought reform or reeducation. I pay special attention to the prostitutes, beggars, and other lumpen proletarians that the Communists saw as dangerous to society and the revolution. To hear me discussing this book, listen to an interview from the New Books podcast series. My current work in PRC history (tentatively titled Speaking for the People: Protest, Petitions, and Populism in the Mao Years) examines the richly detailed letters that rural and urban citizens sent to the Communist state. Additionally, I am continuing my ongoing research on Chinese doctors in the U.S. (project title: The Private Diseases of Both Sexes: Race, Sexuality, and Chinese Medicine in the American West, 1850 -1950) in which I consider the reputation Chinese-American doctors built for themselves as expert healers of venereal disease.
What do our Faculty Affiliations Mean?
Core Faculty have a strong continuing professional focus on issues of women and gender in domestic, international, or global contexts, as demonstrated through research and teaching or other achievements. The Core Faculty supports the activities of GenCen and assists in developing and implementing its programs and activities, and are also eligible to serve on the GenCen Advisory Committee.
Consulting Faculty, while having a professional interest in issues of women and gender in domestic, international, or global contexts and activities of the GenCen, usually do not have these interests as the main focus of their research. 
GDG (Gender, Development and Globalization) Faculty will also be either Core or Consulting Faculty and have specific expertise and interest in gender and international development.
GJEC (Gender, Justice and Environmental Change) Faculty may also be either Core or Consulting Faculty, though that is not a requirement. GJEC Faculty are dedicated to teaching and scholarship related to intersections of gender, environmental change, and social and environmental justice; examining these issues from both local and global perspectives.