The Center for Gender in Global Context currently has more than 275 affiliated faculty members from throughout MSU's campus, across 17 colleges and more than 65 departments and offices.
The GenCen Faculty Directory can be sorted by Name, College, Department, and GenCen Affiliation. Affiliates can be Core, Consulting, GJEC, or GDG Faculty (some members may be both GJEC/GDG and Core or Consulting). Click here to jump to a short description of our Faculty Affiliations.

Back to Directory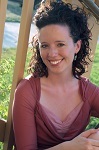 Marcie Ray
Marcie Ray is an assistant professor of musicology at the Michigan State University College of Music. She holds degrees from the University of Texas (B.M. in vocal performance) and the University of California, Los Angeles (M.A. and Ph.D.). Her research interests focus on music, gender, sexuality, and class. Her book manuscript, tentatively titled The Politics of Love in French Baroque Music, illustrates how male composers and librettists transformed and diminished early feminist literary characters when they adapted them for eighteenth-century musical spectacles. A portion of this research has been published in Msica em Perspectiva (2013), The Libretto as Enlightenment Text (2015), and will appear in Early Music (2016). She has also begun research for her next book on makeover musicals; her initial work on this project appears in American Music (2014). The most important aspect of her work, however, is how her research returns to the classroom. For her dedication to her students she has won several teaching awards, including UCLA's most prestigious teaching honor from the Academic Senate Committee, and she was a Lilly Teaching Fellow (2014-15). A sample of the research she conducted during her Lilly year will be published in Engaging Students: Essays in Music Pedagogy vol. 3 (2015).
What do our Faculty Affiliations Mean?
Core Faculty have a strong continuing professional focus on issues of women and gender in domestic, international, or global contexts, as demonstrated through research and teaching or other achievements. The Core Faculty supports the activities of GenCen and assists in developing and implementing its programs and activities, and are also eligible to serve on the GenCen Advisory Committee.
Consulting Faculty, while having a professional interest in issues of women and gender in domestic, international, or global contexts and activities of the GenCen, usually do not have these interests as the main focus of their research. 
GDG (Gender, Development and Globalization) Faculty will also be either Core or Consulting Faculty and have specific expertise and interest in gender and international development.
GJEC (Gender, Justice and Environmental Change) Faculty may also be either Core or Consulting Faculty, though that is not a requirement. GJEC Faculty are dedicated to teaching and scholarship related to intersections of gender, environmental change, and social and environmental justice; examining these issues from both local and global perspectives.