Written by Lauren Dauber
Over the past year, the onslaught of abortion bans enacted throughout the United States have caused increasing anxiety amongst women, families, and pro-choice communities. This anxiety propelled an influx of participation in the 2021 Women's March, especially after Texas passed a devastating abortion law on September 1st, 2021. One of the most restrictive since Roe v. Wade (the infamous 1973 Supreme Court Case that legalized abortion), the law bans abortion after six weeks, providing no exceptions- not even for rape, incest, or health issues. The dystopia does not end there: the new Texas law also states that citizens can now sue abortion patients and/or physicians, with a $10,000 award awaiting. With marches held in every state across the country, it felt more critical than ever to participate this year, especially in one of the many marches dedicated to protecting reproductive rights.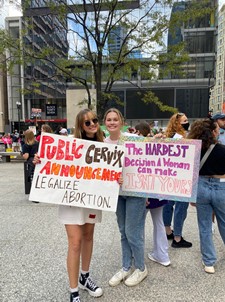 While the swelling war on reproductive freedom certainly enlisted many new marchers, the Women's March dates back to 2017, when activists in all 50 states began to march after the inauguration of President Donald Trump. After attending the march in 2017, I haven't missed one since. This year, I went to the Chicago March to Defend Abortion Access.
Held on Saturday, October 2nd, the march drew hundreds of Chicagoans to Daley Plaza. Joined by my best friend, we drove home from college that weekend in order to attend the first march since 2020, after it had been postponed due to the COVID-19 Pandemic. We woke up bright and early, each taking the train downtown in order to join the throngs of activists eagerly waiting for the rally to begin. Surrounded by bright, colorful handmade signs, we listened to speakers from The Chicago Abortion Fund, Reproductive Transparency Now, Planned Parenthood of Illinois, and The Clinic Vest Project. Tears were shed as women shared their abortion stories, advocating for reproductive justice one-by-one. Others explained current projects and how they were supporting Texan women from afar. We soon began to march, making our way down the blocked-off streets.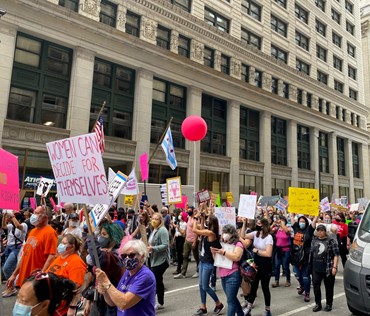 While marching in Chicago, there were over 600 other events transpiring across the country at the exact same time, with each attendee hoping that their actions on Saturday, October 2nd would spark more conversation surrounding the prohibitive bans that have popped up across the nation. As we made our way through the city, people peered out of windows, came out of shops, and stopped along their walks to cheer us on. Feelings of hope and solidarity seemed to flood the city, especially with the support of onlookers from afar. A universal feeling of unity began to bloom amongst marchers- and yet, an unspoken sense of fear persisted. Despite taking action, many marchers still feared that Roe v. Wade would still be overturned by the 6-3 conservative majority that currently dominates the Supreme Court. One thing I know for sure: the display of activism and solidarity shown across the U.S. on October 2nd means that pro-choice activists will not go down without a fight.