GenCen is excited to promote these upcoming events!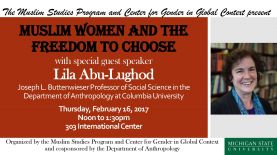 Muslim Women and the Freedom to Choose
February 16
12:00-1:30pm, 303 International Center
With special guest speaker Lila Abu-Lughod, Joseph L. Buttenwieser Professor of Social Science in the Department of Anthropology, Columbia University. Dr. Abu-Lughod's work, strongly ethnographic and mostly based in Egypt, has focused on three broad issues: the relationship between cultural forms and power; the politics of knowledge and representation; and the dynamics of gender and the question of women's rights in the Middle East. Her first book, Veiled Sentiments, was about the politics of sentiment and cultural expression in a Bedouin community in Egypt that made an argument about the complexity of culture. Her second book, Writing Women's Worlds, framed as a feminist ethnography, used individual stories to make a larger argument about "writing against culture" (writing against typifications of social structure and cultural form by attending to internal argument, individual lives, and complex social dynamics) as a means of intervening in vexed discourses about a maligned region as well as challenging transnational feminist representations of women in Arab societies. Her third ethnography, Dramas of Nationhood: The Politics of Television in Egypt, a contribution to the anthropology of nations and to media ethnography, explored the tensions between the social inequalities that bedevil nations and the cultural forms that aspire to address them. She pursues these themes further to examine questions of gender and modernity in postcolonial theory, of anthropology and global media, and of violence national/cultural memory. Currently, as part of an effort to use anthropology to contribute to larger political debates, she is focusing on critiques of the universalist claims of liberalism and on the ethical and political dilemmas entailed in the international circulation of discourses of human rights in general, and Muslim women's rights in particular. This event is co-sponsored by GenCen, Muslim Studies, and Anthropology.
Styling Masculinity: Gender, Class, and Inequality in the Men's Grooming Industry
February 17
12:00-1:30pm, 457 Berkey Hall
What does it mean that men are spending more money on their haircuts, getting manicures, and considering facials and under eye cream? In her book, Styling Masculinity, Dr. Kristen Barber investigates just what it takes to sell men beauty. Going inside high-end salons catering to a male clientele, Barber investigates how the beauty industry recodes these practices so that they inflate rather than compromise men's masculine identities. Beauty doesn't have to feminizing, but this doesn't mean it's a bastion of gender equality.
In her visiting lecture, Dr. Barber will discuss how the recoding of beauty relies heavily on women's labor. Building a framework to understand the "labor of consumption," Barber makes it clear that both male clients and women workers are symbolically created on the shop floor. The women end up serving as corporate marketing tools, are responsible for socializing men into beauty culture, pamper men and sooth their egos, and act as resources for men's projects of heterosexual desires. These interactions, Barber argues, help to reinforce the privilege of these mostly straight, white, well-to-do men. At the same time, Barber considers when the women workers turn power relations on their head to create valued work identities and a sense of job satisfaction.
This event is co-sponsored by the Department of Sociology and GenCen.
Graduate Student Coffee Hour with Kristen Barber, author ofStyling Masculinity: Gender, Class, and Inequality in the Men's Grooming Industry
February 17
3:30-4:30pm, 321 Linton Hall (CAL Dean's Conference Room)
GenCen and the Department of Sociology are delighted to host an informal conversation with Kristen Barber, author of the acclaimed book, Styling Masculinity: Gender, Class, and Inequality in the Men's Grooming Industry. Dr. Barber's book has been highlighted in theNew York Times Magazine and on Wisconsin Public Radio. During her visit to MSU, she'll be discussing with graduate students about her experience studying men and masculinity, and what she thinks is the place of masculinity studies in feminist scholarship. While not required, we kindly ask that you RSVP to gencen(at)msu.edu by Wednesday, February 15 at noon if you plan to attend so that we can order enough refreshments.
This event is co-sponsored by Sociology, CAL and GenCen.