The Center for Gender in Global Context currently has more than 275 affiliated faculty members from throughout MSU's campus, across 17 colleges and more than 65 departments and offices.
The GenCen Faculty Directory can be sorted by Name, College, Department, and GenCen Affiliation. Affiliates can be Core, Consulting, GJEC, or GDG Faculty (some members may be both GJEC/GDG and Core or Consulting). Click here to jump to a short description of our Faculty Affiliations.

Back to Directory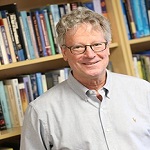 Steven McCornack
College:
Communication Arts and Sciences
Department:
Communication
Affiliation: Core
Email:
Dr. Steven McCornack is a leading researcher in the domains of relational deception and deceptive discourse production. His contributions to deception scholarship include the McCornack-Parks Model of Deception Detection, the Probing Effect, Information Manipulation Theory (IMT), IMT2, and the McCornack Falsification Probability Curve. Dr. McCornack is the author of the interpersonal communication textbooks Reflect and Relate and Interpersonal Communication and You, and the human communication text Choices and Connections. He has received numerous awards for teaching excellence, including the 2013 NCA Ecroyd Award for Outstanding Teaching in Higher Education, a Lilly Endowment Teaching Fellowship, the Amoco Foundation Excellence-in-Teaching Award, the MSU Teacher/Scholar Award, and the MSU Alumni Association Excellence-in-Undergraduate-Teaching Award. Steve was the 1999 and 2010 MSU Nominee for Carnegie Foundation U.S. Professor of the Year. Dr. McCornack has been at MSU since the Fall of 1988, and currently serves as Coordinator for the Undergraduate Program, Honors Advisor, and Faculty Advisor to the Undergraduate Communication Association. His primary responsibilities as Undergraduate Coordinator are to approve credit transfers from outside institutions, review waiver requests, and resolve student problems.
What do our Faculty Affiliations Mean?
Core Faculty have a strong continuing professional focus on issues of women and gender in domestic, international, or global contexts, as demonstrated through research and teaching or other achievements. The Core Faculty supports the activities of GenCen and assists in developing and implementing its programs and activities, and are also eligible to serve on the GenCen Advisory Committee.
Consulting Faculty, while having a professional interest in issues of women and gender in domestic, international, or global contexts and activities of the GenCen, usually do not have these interests as the main focus of their research. 
GDG (Gender, Development and Globalization) Faculty will also be either Core or Consulting Faculty and have specific expertise and interest in gender and international development.
GJEC (Gender, Justice and Environmental Change) Faculty may also be either Core or Consulting Faculty, though that is not a requirement. GJEC Faculty are dedicated to teaching and scholarship related to intersections of gender, environmental change, and social and environmental justice; examining these issues from both local and global perspectives.